2006 Sandra Wickham Fall Classic
Bodybuilding, Fitness & Figure Championships
(Burnaby, B.C. - Nov. 18, 2006)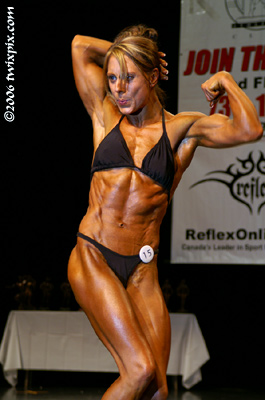 Now in its third year, this competition blends a mix of new competitors and those making comebacks and/or requalifying for the next level. In general, a highly recommended show for any athlete looking to finish their year on a positive note. Official results for all Provincial events are posted at the BCABBA website.
Starting with bodybuilding, lean and muscular fit the bill for Liana Duncan. Abs and biceps particularly stood out. A wonderful debut!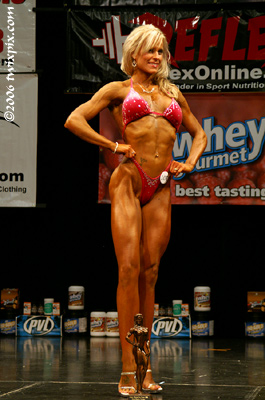 Turning to Figure, four height classes were needed to make the fields somewhat manageable. A credit to the judges who ran through prejudging so efficiently. Michelle Krack survived a very tough Tall Class to take the overall title. Just check out the number of 'contenders' on the 'sneak peek' page! Shape, proportionality and definitely muscle size were rewarded. Kelly McTaggart continues to improve winning the Masters, while some terrific potential characterized the other open height class winners.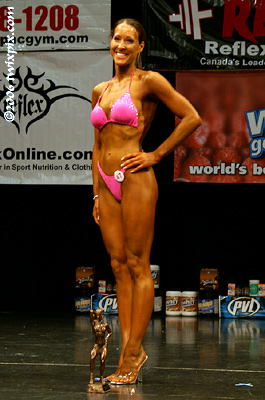 With Sandra Wickham lending her name to this event, the emphasis on Fitness was inescapable. Fifteen competitors graced the stage with some stellar routines. Jena Greenall showed great flexibility with an upbeat routine, combined with a balanced physique. Sixteen year old Serena Mudry wowed the audience with her gymnastics skills, receiving the 'best routine' award as judged by guest performers Tanji Johnson and Nicole Rollolazo. For anyone interested in pursuing fitness and in general finding out more information about this event including a new message board, Sandra's bcmuscle.com is the place to be! Special thanks to Pantheon Athletic Club in Vancouver, Gold's Gym in Burnaby, Great West Fitness and World Gyms in Abbotsford for the photoshoot locations.



(Please notify me of any placing or name spelling errors, thanks.)



(click for full size)