2006 Sandra Wickham Fall Classic
Bodybuilding, Fitness & Figure Championships
Figure - Tall Class (Top 3)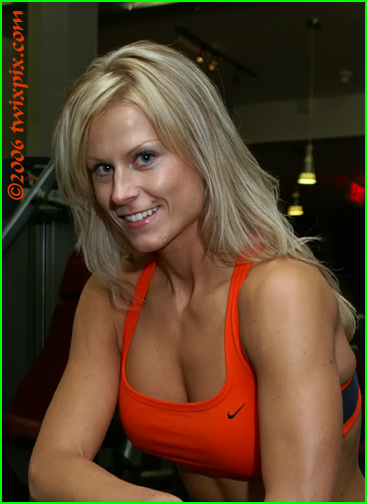 Three shapely physiques dominated this class - all posed well onstage. Michelle Krack had the combination of size, leanness and symmetry to take the overall title as well. Both her and Andrea Peterson are from the same region and helped each other get ready for this competition. Quite the suspense when announcing the top placings (see pic 20). Paraphrasing someone who knows a thing or two during prejudging, "She (Andrea) has a shot at overall if she makes it out of this class." Just one of the many incentives to look forward to the 2007 BC's...back to Michelle, I've added a few more gym photos from 2 weeks later - a fuller after contest look. In her own words...
"Being involved in sports and fitness for 15 years, it has become my life and my passion - from playing rugby at the provincial level to competing in triathlons and teaching boot camp. However, it wasn't until I attended the 2004 BC Provincials that I became truly inspired to compete in figure, but the timing just wasn't right. Firstly, I completed my degree, had my second child and by the spring of 2006 I was ready to train hard, 110%! This sport is yet one of the most difficult sports I have 'played'. Between training and dieting you sure learn a lot about yourself and gain a lot of respect for those that you compete with. Life is not about the number of obstacles or challenges we face but it's about how we face them and the strength we gain from those journeys. Just remember that we pave our own paths, where do you want yours to go? NO Regrets!"


(click thumbnail to enlarge)