2006 Sandra Wickham Fall Classic
Bodybuilding, Fitness & Figure Championships
Figure - Medium Class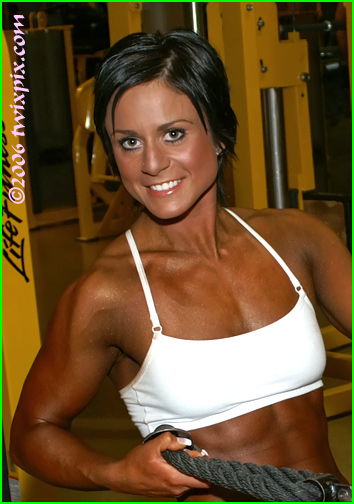 I alluded in the Intro Page to some serious potential among the class winners, among them being Vancouver Island's Sarah Lakas-Pitcher. She exhibited a perfectly proportioned and lean physique - no small feat especially for a 19 year old! Wide shoulders, narrow hips, good muscle size and a confident look onstage...the back pose no doubt was the clincher to set her apart in this class. A terrific result in only her first show. Sarah, in her own words...
"I've always been the skinny little girl and even though I worked at a gym for four years, I never took a real liking to working out. I met Bonnie McKechnie through the Body Barn Gym (where I worked and eventually trained) and instantly became friends with her and Christian Gregory - her trainer and fiancÚ. Despite numerous attempts on their part to interest me in training, it wasn't until I went to Bonnie's Provincial show and saw her transition into competition mode that I developed a much greater level of respect for her and all competitors. I felt as though I had entered into an underground society that the rest of the world was oblivious to and I felt compelled to one day be a part of it. It took me until January of 2006 to decide that I was going to start training with Bonnie and Christian and a few weeks later I made the decision to fully commit and compete in the Sandra Wickham Fall Classic. It was 11 months of hard training and the experience has opened my eyes to a whole new world and has taught me that I really can achieve whatever I set my mind to."


(click thumbnail to enlarge)