2006 Sandra Wickham Fall Classic
Bodybuilding, Fitness & Figure Championships
Figure - Medium-Tall Class (Top 3)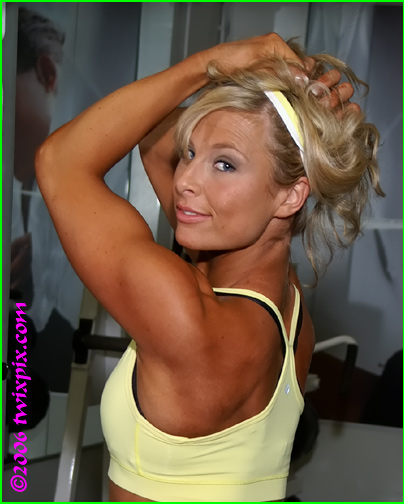 Pantheon Athletic Club is fast becoming the home of some of the best conditioned athletes in the province! From co-owner Angela Kromidas, competitors Kiran Aujla & Kumal Johal (all of whom have been featured here), to stunning Olga Toleva and bodybuilder Tatiana Anderson, strong, graceful physiques are their trademark. Add Vaneska Zahuta to this group as well. In her own words...
"From an early age of 16 I started working out, I saw my sister's very athletic friends and saw how beautiful it was to have a strong fit body...From that summer on I started going to the gym regularly. I joined Pantheon Athletic Club about 5 years ago where I met my trainer and coach Kosta who told me I should get into competing....but it took 5 years before I felt ready. After watching the transformations of Kosta's clients in the gym, I decided it was time to change my life and my body. In 4 months I went from 23.5% body fat to 10% for the show. It took a lot of dedication but was well worth it! I love all that this process has taught me and look forward to doing it all over again!"
Would you believe this was Vaneska's first photoshoot? It certainly won't be her last! Rounding out the top three were fellow PAC athlete Jennifer Motino and Albertan Mel Veroba.


(click thumbnail to enlarge)