2006 Sandra Wickham Fall Classic
Bodybuilding, Fitness & Figure Championships
Figure - Short Class (Top 3)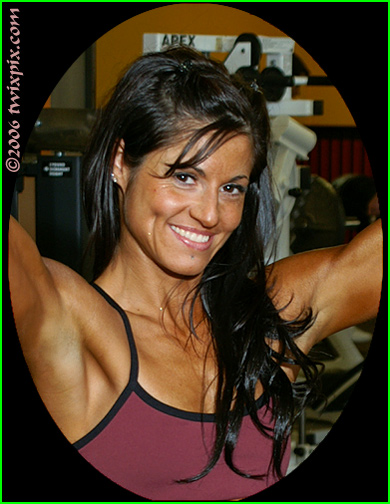 I had a 'heads up' to look out for Teresa Funk at this show and she lived up to the advance billing - lean and defined, yet proportional. 2 weeks later she still looked that way in the gym! Another outstanding competitor in this class was Angie Paterson - excellent size and shape, arguably the best 'quarter turn to the right' pose here to demonstrate that. Hopefully we'll have more from her in the future. Back to Teresa, in her own words,
"The gym has always been a passion of mine since the age of 18, I loved how I felt after working out and the way I looked physically and it was obvious to other people that I really enjoyed taking care of my body. However, I was losing interest in working out just to stay in shape. When I started training at Great West 2 years ago I'd seen some people who competed. Seeing the amazing hard work and transformation that these people had gone through really had me thinking hard about my perspective in the gym. After seeing my friend Maria Sharp who won her class in a Kelowna show in 2006, and with a whole lot of encouragement from people and my husband, it really inspired me to want to push myself to the next level. I thought it over for a long time to see if I would have that kind of dedication and diligence to compete. It was finally June of this year that I decided to get on it! After six months of hard training I won my class in my first show! It was definitely well worth all the hard work and effort. I'm so grateful to my coaches and trainers, I have learned so much from them, and I'm truly blessed! I look forward to competing in the BC's!!"


(click thumbnail to enlarge)