2006 British Columbia Provincial
Bodybuilding, Fitness & Figure Championships
(North Vancouver, B.C. - August 19, 2006)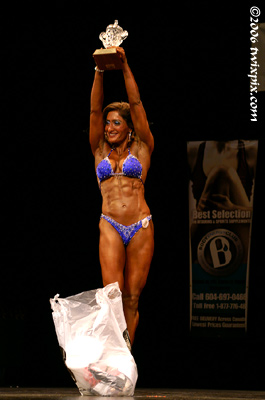 The premiere event of this Province definitely lived up to it's billing! Promoter Kosta Kromidas and his whole Pantheon Team made sure everything ran smoothly. Starting with 'Figure', it featured many of the standouts from recent competitions looking better than ever. Masters winner Kumal Johal combined symmetry, muscle shape and superb conditioning to walk away with the Open Medium Class and Overall title as well! Maria Morrone has steadily worked up the ranks to win the Short Class while phenom Karolina Pawlak in only her second show, exhibited that perfect V-taper to take the Tall Class.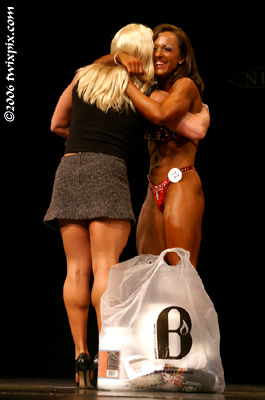 Turning to Fitness, it was truly the best of BC, as a number of National Level competitors took to the stage. The top three finishers' routines in both classes would be the envy of any guest poser. Yes, I'd include third place finisher in the Tall Class, Trish Lavender in that group. The improvements to her physique and the gracefulness of her dance background are a great combination for the future. In the end, Jennifer Jewell who came in much leaner than at Nationals took the Overall. She'd never won Provincials so this is a good launching pad for next year's Nationals.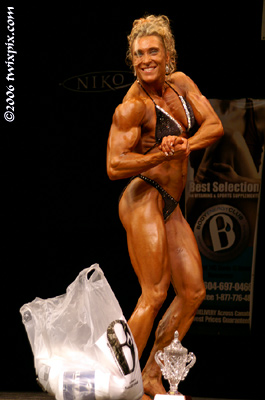 Then of course there's bodybuilding, which turned out to be one of those things that make you go 'hmmm'. Teri Wallace, who competed in both Open Figure (where she did well) and Masters Bodybuilding was placed ahead of Tracy Ross who won the Open Overall. Teri would probably have been a middleweight had she entered the open division. In fairness to Tracy, I think she looked more dialed in as the day progressed so an overall comparison at the night show with Teri would have been an interesting showdown. Official results are available at BCABBA.



(Please notify me of any placing or name spelling errors, thanks.)



(click for full size)