2007 Alberta Provincial
Bodybuilding & Figure Championships
(June 23, 2007 - Edmonton, Alberta)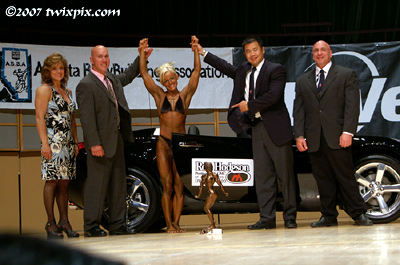 After a bit of wavering since Emerald Cup, finally decided to cover this competition once again. A long and winding road in more ways than one to get here, but seems to be a productive one. More soon, incorportating the days before and after this prestigious competition. The Alberta Bodybuilding Association has seen tremendous growth since 1998 under the guidance of Brian and Donna Logue. This show will be renamed in their honor starting next year. Back to the event at hand, a big thanks to promoter John Dirks for making it a pleasure to attend and helping to smooth the transition to the policies and guidelines of the new Alberta Executive, the aim being to promote the sport in the best interests of the athletes. Official results will be at the Alberta Bodybuilding Association's website.
June 2008 - Unfortunately, I will not be covering this show in 2008 despite my best efforts.



(Please notify me of any placing or name spelling errors, thanks.)


(click for full size)