2007 Alberta Provincial
Bodybuilding & Figure Championships
Bodybuilding - Middleweights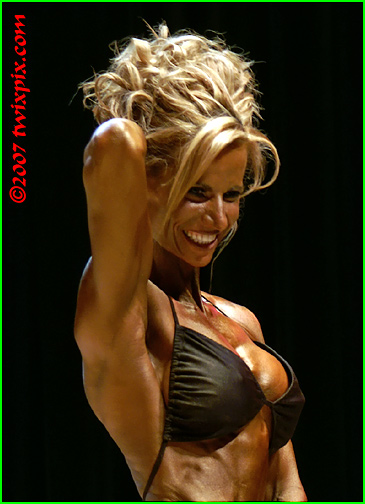 Chermine Crick was back at Provincials looking better than ever in terms of size and muscle definition. Quite the improvement from last year! As is obvious from a 'couple' of the photos below, Sherry Zastawny also competed in the Couples Division, so more than her share of stage time at this event :) I didn't mind at all as she was the personification of grace and elegance during both routines. Had there been a 'best poser' award, she'd get my vote. Add to that a tight physique with great abs, impressive biceps peaks and reminding me a bit of Trina Gillis in the looks department...well you end up with at lot of pictures! Added to this page some months later, 4th placer Kathy Holmes with quite respectable size and shape.


(click for full size)