2006 CBBF Canadian National
Fitness & Figure Championships
(July 1, 2006 - Edmonton, Alberta)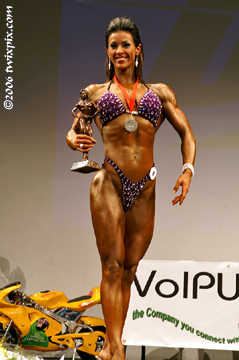 A week following the Alberta Provincials was the Canadian Nationals for Fitness & Figure. The large number of well deserved participants from the host Province went over very well with the hometown crowd. This is the first of three years in a row that this event will be held in Edmonton. Thanks to promoter Cabel McElderry and his crew who ran a superb show, ably handling the inevitable glitches :) As if taking on this project wasn't enough, they put on the David Ford Fitness Model Search the following day at West Edmonton Mall! I've added a few pics to this coverage. Also, thanks to all the folks at Hardcore Gym for allowing me to photograph there during the week. Back to the competitors, figure and fitness has risen to a new level of top conditioned athletes in Canada. A definite increase in muscularity but that is the result of increased weight training and I can't see them turning back the clock. Pro cards were handed out to Jamie Senuk (Overall Winner), Jill St. Laurent and Serena Cooper in Figure as well as Myriam Capes in Fitness. And a late note, Lisa Taylor received a Pro Card for her Masters win - she's eligible to compete in the IFBB Open Division.
Official Results are available at the CBBF website.



(Please notify me of any placing or name spelling errors, thanks.)


(click for full size)