2007 NPC Vancouver USA Natural Bodybuilding &
Tanji Johnson Fitness/Figure Classic
(March 31, 2007 - Vancouver, Washington)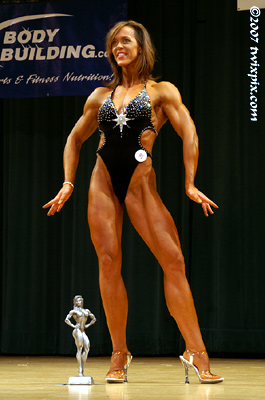 I'll start by repeating what I said last year... "This event has always been a pre-cursor of good things to come for the upcoming competition season and this year was no exception. Frank Bohm puts on a great show and with co-promoter Tanji Johnson...to say there was an explosion in the number and quality of figure competitors would be an understatement."
Add to that eight quality fitness competitors to complete a well rounded event. Of note was the move from bodybuilding to figure of overall winner Mary Hallman and class winner Elsie Huxtable. Only three entered open bodybuilding this year, but a good group of Novice competitors was an encouraging sign.



(Please notify me of any placing or name spelling errors, thanks.)


(click for full size)