2005 British Columbia Provincial
Bodybuilding, Fitness & Figure Competition
(August 6, 2005)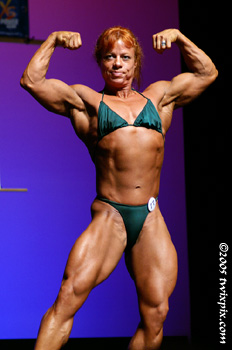 Surrey was the first-time host city for this year's championships, held at the beautiful Bell Performing Arts Centre. Some familiar names from years past made very auspicious returns as well as newcomers who I'm sure will be heard from in the future. Thanks to promoters Herb Orth and Derek Carey as well as the BCABBA for staging a flawless event. Well, it did run a little long but enjoyable throughout. I'm not a big fan of the alternating categories format and all overalls happening at the end as it lacks continuity. On a personal note, this was my first digital contest coverage. Still experimenting - need to work out some of the bugs and where film's place is in the mix. Highlights from stage and photoshoots are on this page. More to come as time permits.


(click for full size)