2006 NPC Bodybuilding.com Emerald Cup
Figure - Over 5'3" to 5'4" (Top 5)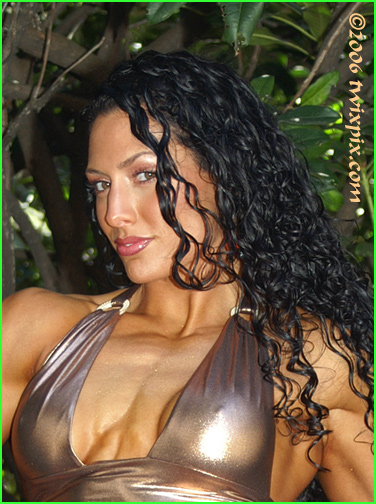 Just thinking about last year...compared to now, at this height class. Back then, Michelle Anderson blew away the field, beautiful lines but not that big (wait'll she competes this year though). Fast forward to 2006...starting with Denise Jensen. I've seen photos of her winning the 2005 Seven Feathers Classic but she's gotten bigger since then. At the overall comparisons, she and Sonia Adcock were placed at center stage, hate to be a judge! Next was Nina Schumacher. This transplanted Arizonan who now calls the Northwest home, has been featured in Oxygen Magazine and competed at National level shows. To say she's photogenic would be an understatement. Add to that a well-toned proportional physique and you have the makings of a fitness star. Only three points seperated her from first place. Moving along, Canada was well represented in this class. Leading that group was Lynda Thoresen with the ultimate shape for a physique athlete, a perfect V-taper. Balanced muscularity throughout - check out her website to see her remarkable transformation. Making a comeback of sorts was Marga Martin. I remarked in 2004 about her getting back to the form that won her previous titles. Well, with the help of trainer/competitor Stacy Clary, she's better that ever. Those calves grab your attention but the rest of her holds it - truly ready for National level. Closing out this page is Fawnia Mondey-Dietrich - did a double take when she came out onstage. I didn't recognize her at first. Had to prod GeneX next to me and ask "Is she a dead-ringer for Fawnia Mondey?" - put on some size, lost the bangs, a more mature, sophisticated presentation. All in all, an amazing Top Five.


(click thumbnail to enlarge)