2007 Western Canadian Tested
Bodybuilding, Fitness & Figure Championships
Figure - Tall Class (Page 1)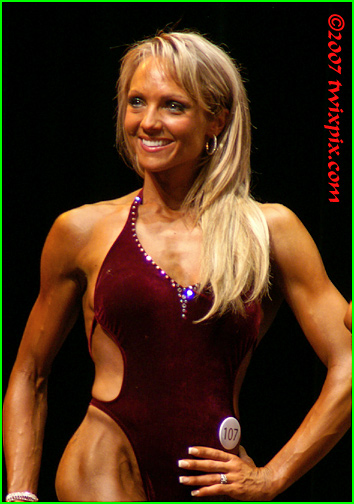 What can I say? Jennifer was totally confident and relaxed onstage presenting a very proportionate physique with the right amount of muscle definition. From a kid working out with soup cans in her bedroom to fitness instructor, cheerleading choreographer and swimsuit model in LA, the fitness bug was in her blood. Having only in recent months moved to Edmonton, this Thunder Bay native found a supportive community there in her employment as a French Immersion teacher and the snowball effect of her husband's cheering for her at this show garnered her an enthusiastic fan base with the Kelowna audience as well. By the end of the night, you'd think she was a local! Her striving for excellence should bode well for the next chapter in her fitness career. Well done, Madame Flontek!


(click thumbnail to enlarge)