2009 SWFC Bodybuilding, Fitness, Figure & Bikini Championships
Cory Burdock - Fitness Division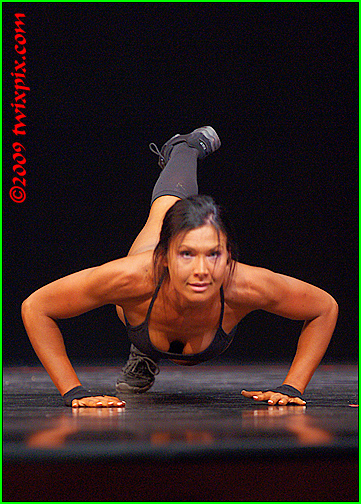 Only training for this competition since June of 2009, this was a new challenge for Cory after having ran a few marathons. She grew up figure skating and always liked the excitement of routines. National competitor Charlene Akhurst trained her for physique and Cory taught herself the moves and routine aspect! She's discovered that she loves the gym and the fitness world. "It is a great way of life!" Cory's from Lethbridge, Alberta and in her second year of nursing. A long way to come out for this show but a good choice since at the SWFC there tends to a respectable number of competitors entering fitness. She looks forward to many more competitions and whatever the future holds down this path :) Photos are from finals except for the one on this page from prejudging...almost looks like it could be on skates!


(click for full size)