2008 Sandra Wickham Fall Classic
Bodybuilding, Fitness & Figure Championships
Jenny Weis - Figure Short Class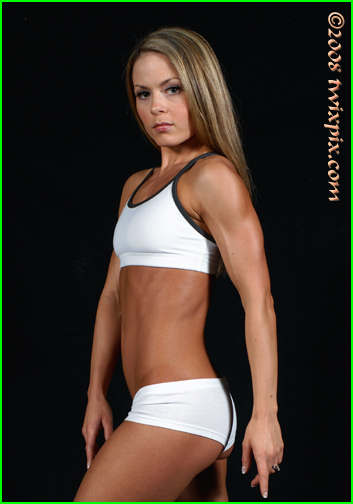 In only her first competition, Jenny Weis looked like she was built for the sport. Wide shoulders, narrow hips and great abs in between for starters. This didn't happen overnight as she'd wanted to compete since she was a girl, as a teenager receiving her first set of weights from her father. Jenny's always been athletic, with a background in dance, gymnastics and track and field. Her next goal is Provincials either in 2009 or 2010. She's currently taking her personal training certification as she loves helping others to achieve their fitness goals. Always striving for self improvement and hopefully Nationals one day. Jenny's been training to compete under Dawn Alison for the past year and I certainly can see she's on the right track! Her dream would be to land the cover of Oxygen magazine (she's got the looks), as she's read every issue ever published :) To that extent, we've showcased a bit of her modeling talents in a 2-week post competition photoshoot. Thanks to Langley Fitness World for the gym shoot location.


(click for full size)