2006 NPC Oregon Ironman
Bodybuilding, Fitness & Figure Championships
(Jantzen Beach, Oregon - May 12 - 13, 2006)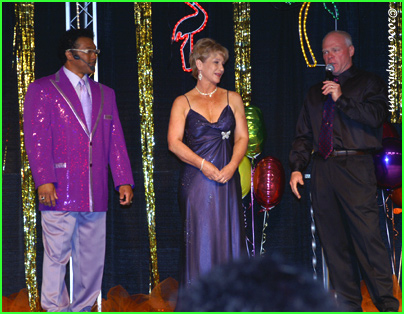 As you cross the Columbia River from Washington to Oregon you'll find Hayden Island where Jantzen Beach is located. Appropriately named after the founder of a swimsuit company, it's become the home of this competition in recent years. This is the first show from RK Smith Productions I've covered. Their other show is in Canyonville near the California border in early October. Ron & Susan Smith, together with an excellent crew put on a superbly run event - a bit different with banquet style seating but the audience seems to enjoy the intimate atmosphere.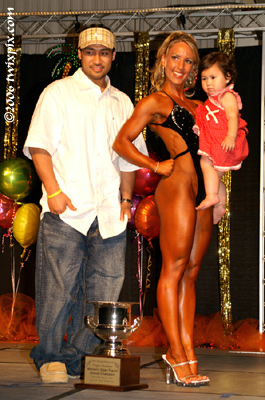 Continuing with the appropriateness of this event, being 'Mother's Day' weekend, overall Figure champion Kristi Tauti posed for the cameras with her husband and one year old daughter. Kristi nicely followed up on her 2nd Place finish at the recent Emerald Cup. Others to look for in the future who particularly stood out in this photographer's opinion were class winners Jessica Kaiser and Ashley Cheney. A very busy competitor this weekend was Heidi Young, winning the Figure Masters, her open height class, Novice bodybuilding and a 3rd Place in Masters bodybuilding - a lot of trophies!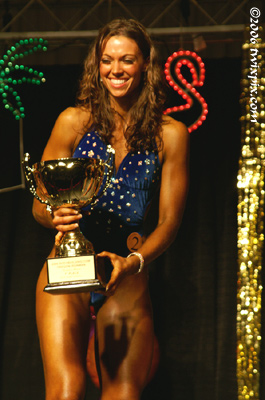 Turning to fitness, an excellent debut for former gymnast Mandy Potts who's been meaning to enter this sport for the last few years. After graduating from college, she's pursued a career as a personal trainer with the educational background, not to mention the physique to back it up. On her very first day of photoshoots, she seemed like a natural, some of the poise and showmanship from gymnastics certainly came through!
Bodybuilding saw former figure competitor Dani Craig win the overall as well as the Mixed Pairs class with partner Devon Stephenson.



(Please notify me of any placing or name spelling errors, thanks.)



(click for full size)