2006 WNSO - FAME Vancouver Island
Fitness & Model Expo
(Nanaimo, B.C. - May 27, 2006)

A couple of firsts for me and this website. I've never attended or covered a show on Vancouver Island, nor one under the auspices of the 'WNSO' - World Natural Sports Organization. From 'routines' for Figure competitors, a Fitness Model Category and bodybuilders actually performing their routines at pre-judging (now that takes me back!), a thoroughly enjoyable event to cover and certainly for the audience. My thanks to promoter Joanna Dunn and the folks at Fitness Edge Health Club for their hospitality. They put on an amazing show. Also, emcee 'Captain Fitness' Chris Batista livened up the atmosphere from weigh-ins, through pre-judging and finals - now that's working overtime!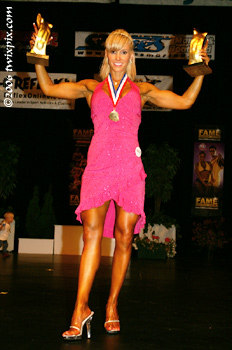 Getting down to the events, Calgary's Maci Zimmerman won both the Figure and Fitness Model categories - a very busy weekend for her! Mill Bay's Joanna Crowe and Rene Wilson captured the Lightweight and Middleweight Bodybuilding titles respectively. Joanna won the Overall and Rene the Grandmasters (over 45) as well. More will be added as time permits.