Tiffany Vik - Fitness Model
(June 2008 - 1st Place)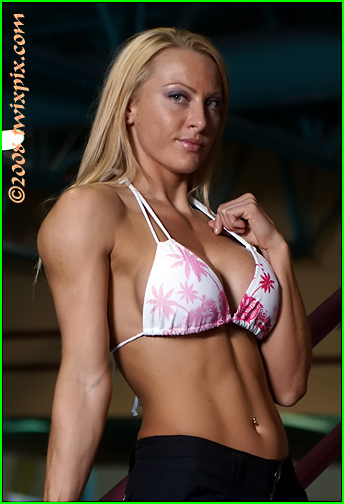 It's been about a year since Tiffany last graced these pages, great to welcome her back. She's headed to the National World Qualifier (natural/tested) show in Winnipeg in a few days (as of this writing) so thought we'd preview the 'week out' look. She's added some size to fill her frame but not looking to be as striated as last year (what do the judges want!). And of course, she's still smokin' in front of the camera :)
Fast forward a week...1st Place Figure Tall Class!!
Next goal for Tiffany is the World's in Spain! There's a nice article on her in the July 15, 2008 edition of the Langley Advance.
Thanks to Langley Fitness World for the gym shoot location.


(click thumbnail to enlarge)
(photos are only viewable within their own page)