2008 Western Canadian Tested
Bodybuilding, Fitness & Figure Championships
Figure - Medium-Tall Class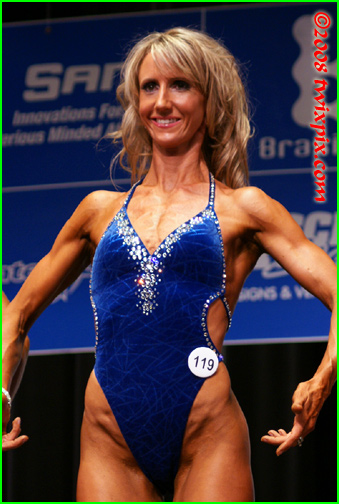 Rounding out the top 3 in this class was Langley's Belinda Bowsher. A lean physique and definitely on the right track to take on Provincials. In her own words " I have been training with Sandra Wickham for the past 10 months, after seeing my best friend Tammy Humeny compete in the 2005 SWFC and watching her transformation. Since having two children and gaining 20 pounds, I was really lacking self confidence. I had initially started training by enrolling in a boot camp, which had got me motivated to start getting back to the gym on a regular basis. After a year of training on my own I really wasn't seeing any changes in my body, this is when I decided I needed a new challenge and enlisted the help of a real professional - I haven't looked back since and I couldn't be happier with my own transformation. I plan on continuing competing and keeping fit as I am loving the new me."


(click thumbnail to enlarge)