2008 Western Canadian Tested
Bodybuilding, Fitness & Figure Championships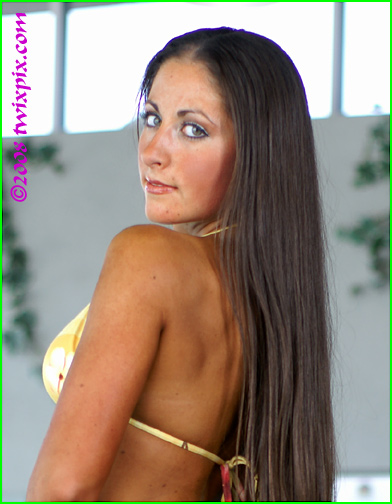 I've had a Vernon, B.C. connection for the last few years, in '06 it was Team Chapman's Rebecca and Caitlin, Nicole and Mariah at the BC's and '07 saw Shauna and Victoria from that group get featured. So going back to the well, got in touch with trainer Paulette Barry (herself a competitor) who organized a group called 'Mind2Muscle' comprising athletes from the Vernon area. Among them was 21 year old Amy Stankoven, only specifically training for this about 4 months, but with the credentials and the potential to do well in the sport. Amy credits Paulette and her support group for making this journey a wonderful and rewarding experience - training and sharing the joys and struggles towards competition. As a lifeguard she's always been involved with all water activities as well as soccer, volleyball, baseball, rollerblading, etc. over the years. She's a BCRPA Weight Training Instructor and also worked as a gym manager. Her goal is fitness modeling, and to that end she's got a very photogenic look (half Italian) in front of the camera. This show was a learning experience for Amy, who enthusiastically took to both the figure and bodybuilding stages!


(click thumbnail to enlarge)