2008 Western Canadian Tested
Bodybuilding, Fitness & Figure Championships
Figure - Short Class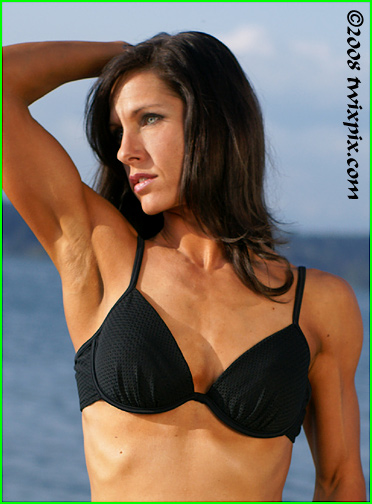 In a quality field with different type physiques, it's difficult to tell what's in the judges' minds. A lean physique with good muscle shape...maybe a few tweaks needed here and there - to that end Krista's entering the Northern Classic (Fort St. John) in early June (just her second competition) to prove just that! A 33 year old dental assistant and proud mother of one, she began training after having her left ACL reconstructed in 2006 (she tore it playing in her 26th year of softball) - a competitive athlete since her youth. She trains with Dawn Alison of Langley Fitness World, who of course got me in touch with Krista. Thanks to all the staff at Global Fitness in Kelowna (and Maria M.) for the excellent photoshoot location. Krista took to in front of the camera so well, she definitely merited an invite to the 2nd annual post Western Canada's beach shoot (see how these things start?) where she teased us with just a brief appearance :) More to come...


(click thumbnail to enlarge)