2005 Sandra Wickham Fall Classic
On Location - Gym Photoshoots


Two of the most captivating figure competitors are featured here. Pamela's entered bodybuilding in the past and was in the 'Fitness Model' category at this same show last year. Years of dance training in her background resulted in a particularly graceful bodybuilding routine back then, not to mention one of the most nicely developed set of calves seen in the sport! An all around stunning physique. Karolina is new to competition and fitness modeling. Quite photogenic and did an excellent job in only her first shoot. Trained by former national level competitor Dawn Young, she brought one of the most balanced and tight physiques to this competition.
Special thanks to Leah of World Gym in Burnaby and Priscilla for making our visits so hospitable.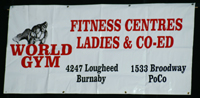 (click thumbnail to enlarge)