2009 NPC Oregon Ironman
Anna Persijn - Open Figure Under 5'3"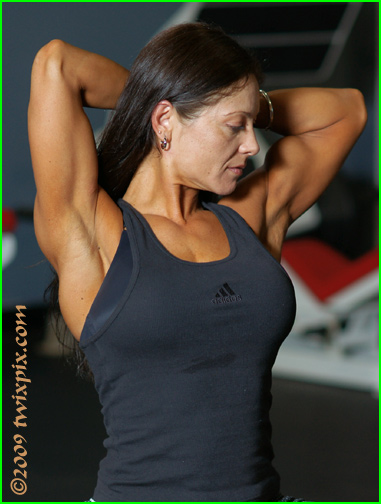 One competitor who truly stood out onstage was Anna Persijn. A solid and shapely physique with very impressive and balanced muscle development. I wasn't aware she'd competed as a bodybuilder a few years earlier, a show I had missed in 2004. Gracing the stage in both the Open and Masters figure classes here, goes to show that age isn't necessarily a factor when contemplating who'd make a good subject for a photoshoot! A big thanks to Gold's Gym in Vancouver, Washington for the photoshoot location. It's a really nice facility with lots of room! In her own words, "I started pretty young in gymnastics at the age of 6 and on to competing from the age of 10 until I was 13, I think I got really burned out with it and wanted to do something else so I started playing volleyball in middle school, but that ended when high school started. Right after high school I joined the Oregon Air National Guard and worked for the Air Force as a Communications Operator part time for 8 years. We have to stay in shape to be in the military so to stay trim I ran a lot, but didn't really lift. I really got into weightlifting after my first child and a 50 pound weight gain! So I hired a trainer and in 3 months lost most of the baby weight and gained 10 pounds of muscle. My body completely changed and I loved it! People at the gym would always ask me if I had competed before (which I hadn't). They told me I should, but I didn't really have the urge at that point. After 9-11, I had a chance to go Active Duty for the Air Force, but still work at the Portland Air National Guard base for an F-15-Eagle Squadron. I love it and have been there ever since. A few years later I wanted to take my body to the next level and hired another trainer to help me get ready for the 2004 Vancouver Naturals Show, he did a great job because I won the Women's Novice Lightweight class and the all around trophies. I had to slow down at that point because working full-time and trying to take care of a family needed to be my priority. Then in 2007 I had a beautiful little girl, with another heinous weight gain (though this time it was 40 pounds). I thought to myself, wouldn't it be great to do another show and get back into shape that way, so to make a long story short, here we are ;-). I love being in shape and feeling young, that is my reason for lifting."


(click for full size)