2009 FAME Canadian Nationals
Olivia Jade - Swimsuit Model (Open Class)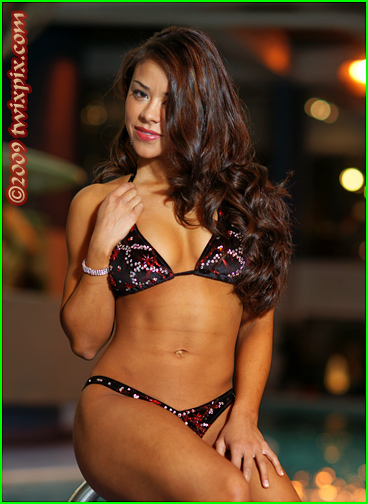 Continuing a stellar lineup of beauties from Victoria, BC making their debut in the FAME series and featured here, (Michelle Jeanpierre, Stacy Clough, Megan Pollock...) was Olivia Jade. Her sister Naomi is an accomplished FAME Pro Fitness star and no doubt a strong influence on Olivia's competitive career. A total package wins, and in such a large class (16) you've got to stand out! Onstage expressions, confidence and just the right level in terms of a lean/soft looking physique was the perfect combination for Olivia. And offstage...she'd look right at home on the cover of any fitness magazine. Oh, and judging from the gym area photos, there's some serious muscle on her - good structure and lines so I wouldn't put it past Olivia to excel in some of the other categories down the road. A little bit about her... "Olivia has a solid background in training and teaching dance, sports, acting and martial arts. Fitness competing on stage for her just seemed like the right thing to do next, naturally. And it's a great thing, as it has quickly become a passion and an exciting new endeavor full of opportunity for Olivia. As a full time personal trainer and director of "Jade2beFit", and strong believer in fitness for both physical and mental wellbeing, Olivia is no stranger to hard work and living well! With the support of her sister and accomplished fitness athlete Naomi, and enthusiasm for the industry and all that it entails, there is no stopping her now! Olivia plans to continue competing and pursuing her career in the fitness industry!"

We photographed poolside at the Flagship club of Fitness World in North Vancouver. It's an amazing facility and worth checking out. Big thanks to the staff and management!



The clip below is courtesy of stage manager (and videographer) Kevin Friesen - did I mention Olivia's comfortable onstage and in front of the camera?



(click for full size)