2009 NPC Empire Classic
Lauri Faraschuk - Figure - Medium Class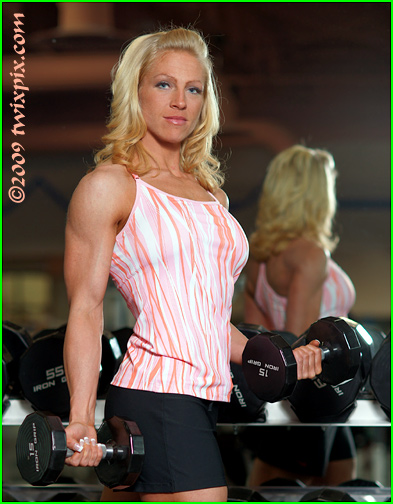 Taking a season off to have a baby (excuses, excuses), local favorite Lauri Faraschuk combined good muscle size and shape to take the overall title. In her own words, "I have always enjoyed athletic competition. I started playing soccer when I was 5 years old. Then I added in cross country and softball. Throughout high school I continued to play sports with my main focus being soccer. My freshman year was when I began to lift weights, it was very basic and I was clueless. My senior year I actually broke the record for bench press for the girls, 150lbs! I am sure it has been beaten many times since. In 2006 I attended my first bodybuilding competition, the Empire Classic. I had a mutual friend who was competing in the figure division. Seeing her and all the other competitors up on that stage showing how hard they worked, I was inspired. I started training very shortly after and my first show was the Evergreen Championships in Wenatchee Washington. I placed 3rd but it was a small show and I still had so much to learn. One month later we drove to southern Oregon and I entered in the Seven Feathers competition. I place 4th out of eight girls. Next spring I competed in a few more shows, Vancouver Naturals 5th, Empire Classic 3rd, Oregon Iron man 5th. I became pregnant that fall so I obviously took a break but I was counting down the months till I could begin my training. My son Tristan was born on July 29th 2008, my training and dieting began December 1st, 2008 for the upcoming spring season. I had done a few small shows and wanted to get my feet wet and try some larger ones. So I applied to the Arnold Classic. I qualified and my application was accepted. So I trained and made preparations to travel to Columbus Ohio. There were 25 girls in my class, they were from all over the world! I made it to the finals and ended up taking 8th. I was ecstatic, my goal was top ten. The Arnold Classic was an amazing show! I would recommend it to anyone that is serious about competing and likes a challenge. I then entered in the Empire Classic in hopes to place better then 3rd as I did the last time I was up on that stage. I ended up wining my class and winning overall! I was more then happy with all my hard work. Even at the shows that I don't place top three, I still have a great time and truly enjoy the sport.


(click for full size)