2009 CBBF Fitness, Figure & Bikini Championships
Leigh Lingham - Bikini Short Class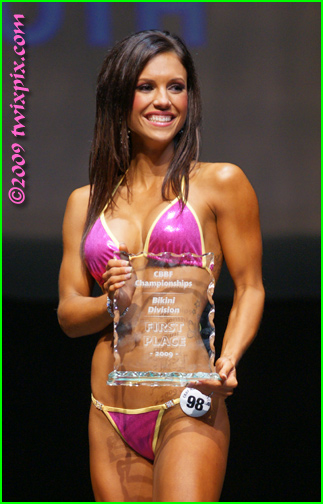 Being the trailblazer in anything is a daunting task so with the CBBF making the inaugural 'Pro qualifier' an open event, fingers crossed we'd get a representative worthy of that title. Looks like they hit a home run with Leigh and a couple of other entries who've now set the standard for what this division should be all about. An athletic, weight trained physique but not showing as much of the muscular separation and hardness of figure. Don't get me wrong, those I've alluded to are quite capable of achieving that look and are by no means 'lightweights' in the gym! In Leigh's case she'd qualified and competed at Provincials in figure in the past and although this probably wasn't her original intent when competing earlier in the year at the Western Canada's, I think it worked out for the best.

She was quite occupied at Provincials running things with her fiance, Dean Brandt who promoted that event - the timing for this couldn't have been better! Special mention of 'Team Energy's' Lori Mork who's hung up the posing heels (for now) and concentrating on getting her clients such as Leigh in tip top competition shape. And just to top it off, Leigh's birthday is just a few days after this show...so 'Happy Birthday Leigh!' Couldn't have happened to a nicer person.


(click for full size)