2006 Alberta Provincial
Bodybuilding & Figure Championships
Figure - Tier 1 Tall Class (Top 5)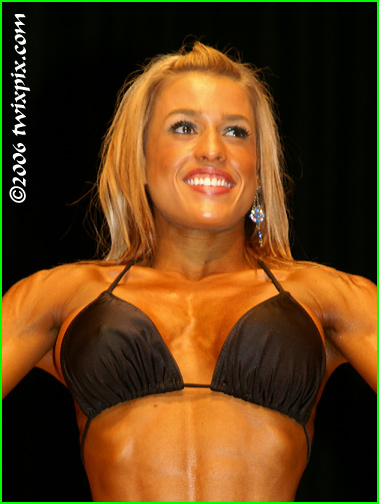 This being the largest class with 28 competitors, it assured an outstanding Top 5. Robin Spence and Karma Schopp had similar proportionality, a bit more size on Robin. Melissa Price (I keep wanting to call her 'Vanessa' as she reminds me of Vanessa Van Overmeer) looked stunning onstage. Sorry, we couldn't synch up for a photoshoot this time - I'm sure we'll hear more from her should she hopefully continue in the sport. Rounding out the 'all blonde' field were Barb Koppang and Jessica Ritchie, both with good muscle size. Jessica has the ideal physique to go far in the sport - wide shoulders, narrow hips - very 'sleek' looking onstage.


(click for full size)